Thomas Kinkade
Een van de uitgebreidste Thomas Kinkade collecties van Nederland en België vind je bij Kings & Queens in Roermond.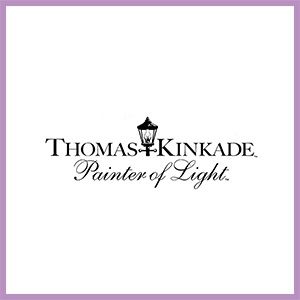 Geen producten gevonden die aan je zoekcriteria voldoen.
Thomas Kinkade - Kings & Queens Roermond
Thomas Kinkade, de beroemde "Painter of Light", is geboren in Californie, USA en wist al op jonge leeftijd dat schilderen zijn roeping was. Hij deelde zijn passie voor kunst en zijn creatieve proces graag met andere kunstenaars tijdens zijn carrière. Thomas geloofde in het ondersteunen van de ontwikkeling van kunstenaars en wisselde ideeën met ze ui. Door deze samenwerking heeft Thom zijn methoden doorgegeven en de technieken, concepten en visie bijgebracht voor zijn kenmerkende Kinkadiaanse stijl.
Tegenwoordig passen de kunstenaars van de Thomas Kinkade Studios veel van dezelfde technieken toe die Thomas tijdens zijn leven heeft bedacht en gebruikt; van schetsen tot digitale penseelvoering en olieverf, tot het heroveren van beelden en zijn gebruik van licht. In de loop van de tijd zijn deze meesterlijke vaardigheden geëvolueerd naar een Kinkadiaanse kunststijl die wordt aanbeden door kunstverzamelaars over de hele wereld.
De Thomas Kinkade Studios brengen nog ieder jaar nieuwe ontwerpen uit... waaronder speciale Disney-pareltjes. Zeer gedetailleerd en prachtig van kleur en vormgeving. Puzzels van deze ontwerpen zijn te koop bij Kings & Queens in Roermond. Van Peter Pan tot Cinderella en van Mickey Mouse tot Beauty & the Beast. Gegarandeerd uren puzzelplezier met de puzzels van Thomas Kinkade!