Star Wars
Een van de uitgebreidste Star Wars collecties van Nederland en België vind je bij Kings & Queens in Roermond.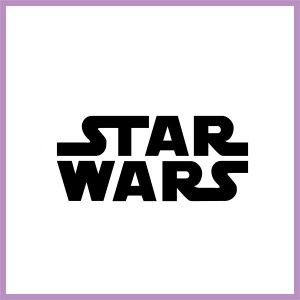 Star Wars - Kings & Queens Roermond
Het succesverhaal van de filmreeks, die onder de noemer Star Wars wordt uitgebracht begint in 1977. Dan verschijnt de eerste film Star Wars in de bioscopen. Drijvende kracht achter de reeks is regisseur en producent George Lucas.
In 1980 volgt het volgende deel The Empire Strikes Back en in 1983 is de beurt aan The Return of the Jedi. Hoewel je zou denken dat de filmreeks begint met deel 1, 2 en 3, klopt dat feitelijk niet. De allereerste films zijn eigenlijk het 4de, 5de en 6de hoofdstuk in het verhaal. In totaal kwamen er 9 films en diverse spin-offs.
Niet alleen op het witte doek zijn de films een regelrechte kaskraker... ook op het gebied van de merchandise worden goede zaken gedaan. Mokken, kleding, beeldjes, dekbedovertrekken enz.
Speelt Star Wars in de toekomst? Nee dus. Elke film begint met de magische woorden: 'Lang geleden, in een sterrenstelsel ver, heel ver weg.' Wanneer en waar precies, dat blijft onduidelijk. Zo heeft maker George Lucas het ruim 40 jaar geleden nu eenmaal bedacht. De rode draad door de films is de strijd tussen het goede (De rebellen strijden samen met de magische Jedi's) en het kwaad (onder leiding van de meedogenloze Sith). Het verhaal gaat niet alleen over de letterlijke strijd tussen beide kampen, maar ook over de innerlijke strijd over de keuze tussen goed en kwaad; the Force. Een van de quotes, die onvergetelijk is geworden door de Star Wars-reeks is 'May the Force be with you'.
In de loop der jaren zijn heel wat filmpersonages (en de acteurs die de rollen spelen) onvergetelijk geworden... denk aan Luke Skywalker, prinses Leia en Han Solo, en wat te denken van de onderdrukkers Darth Vader en Kylo Ren en hun genadeloze regime. Maar ook talloze buitenaardse wezens en droïds deden hun intrede: Yoda, Chewbacca, Jabba the Hut, R2-D2, C-3PO en BB-8.
Inmiddels kun je jezelf ook onderdompelen in de wereld van Star Wars. In Disneyland Californië en Disney World zijn complete delen van de attractieparken gewijd aan dit fenomeen. Een soortgelijke themagebied staat ook gepland voor Disneyland Parijs.
Ook bij Kings & Queens tref je Star Wars-merchandise aan: mokken, tassen en rugzakken, portemonnees, servies, etc. Kom naar Kings & Queens Stationsplein 1 in Roermond of ga naar de categorie 'Star Wars' van onze webshop.